As a long time fan of the band Queen my excitement about the biographical drama Bohemian Rhapsody (2018) was quite high.
When the first reviews for Rhapsody trickled in, said excitement experienced quite a dip, but I still decided to give it a chance.
After all, not all reviews are to my taste and opinion – I have loved movies with bad ratings before.
One good thing came of me having given that chance: I can now tell you why you shouldn't waste your time on this sad scramble of a movie.
Before expanding on the criticism, there are some positives to be pointed out.
In regards to casting, the choices made are truly excellent: from band members Brian May and Roger Taylor to Mercury's boyfriend Jim Hutton to Bob Geldorf at the Live Aid benefit concert, the actors are chosen extremely well.
As far as the writing and directing allow them to, there are also some enjoyable scenes in the movie: Freddie's relationships with his wife and his family are arguably the most well-executed moments of Rhapsody. Those brief scenes allow the viewer to somewhat get into Freddy's head, giving a glimpse of his uncompromising and unapologetical vision for himself and the band, juxtapositioned with his life-long struggle of self-love and acceptance.
Of course this all boils down to the amazing Rami Malek who gives a good performance, considering the material he is forced to work with. Sadly, neither Malek's work – nor any other of the few commendable efforts from other actors – manage to redeem the movie.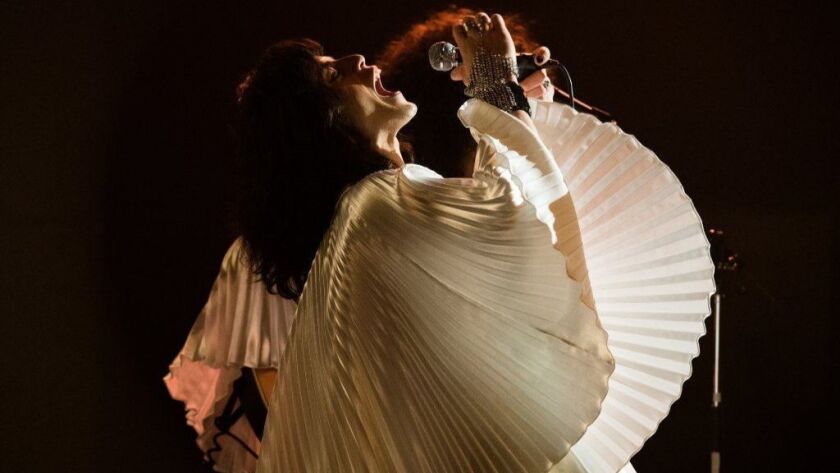 There is more than enough source material to work with in this matter, so really if art would just imitate life, with the chosen cast there should be no issues whatsoever.
Sadly, the screenplay either leaps between fragments of events, has no flow whatsoever, leaves the realm of facts and even spins unnecessary false narratives around many of the characters and events, which is just sad and ignorant.
From songs being written and recorded to character dynamics to Freddie's coming to terms with his homosexuality – every and any chance of an in-depth dialogue that goes further into an actual issue of the time or what Mercury had to overcome personally, are either distorted, glossed over or portrayed in a completely shallow manner. In fact, there is not one piece of solid dialogue to be found throughout the whole movie. Any chance to go in-depth with character dynamics or lines are crammed into hollow exchanges of quote-like one-liners.
To summarize my thoughts, I shall quote another critic by wholeheartedly agreeing to this point:
"The only redeeming value of 'Bohemian Rhapsody' is it's so bad, there's plenty of room left for a much better biopic about the one and only Freddie Mercury." (Chicago Sun Times)
There are many roads that could have been taken to write a biopic on Queen, but in this  case all choices – except casting – are just disastrous.
Yes, Queen wrote and produced great music, had an outstanding amount of extraordinary songs and memorable performances. Yes, Freddie Mercury was a fabulous homosexual man who bent the rules of his time, had a unique gift, struggled with his sexual identity and died of AIDS. The fact that the plot of this movie can be contained within a short paragraph and lacks any nuance and depth beyond those surfaces, is simply an abomination.
In no way does this movie do justice to Freddie Mercury's personality, struggles, talent, impact – or Queen's legacy. I would rather search and watch the actual performances in a chronological order and read a Wikipedia article on Freddie Mercury than waste my time on this gauche nonsense.
Other reviews on Bohemian Rhapsody:
Chicago Sun Times: Inept Freddie Mercury bio is no pleasure cruise
Vox. Bohemian Rhapsody loves Freddie Mercury's voice. It fears his queerness.
Roger-Ebert.com: Bohemian Rhapsody Review
Vanity Fair: Bohemian Rhapsody will not rock you
The Fandomentals: 'Bohemian Rhapsody' hits nothing but flat notes
---
---
Kategorien:Home, Movie Moments